BISS RBISS NZ Ch Berolee William Trigg (living in New Zealand)
D.O.B.   01-02-05
Hips 1.1
Elbows 0
Optigen Normal/Clear
EIC tested Clear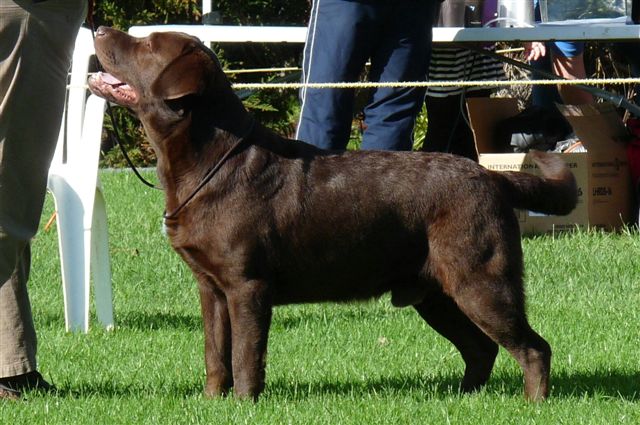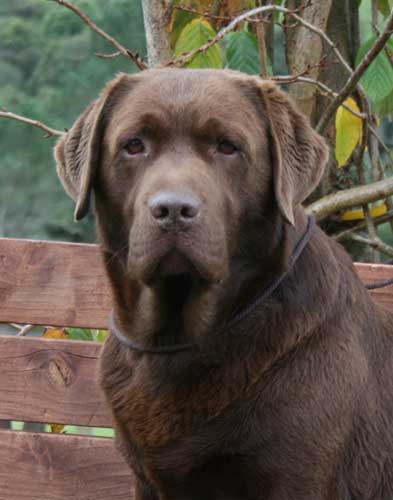 William's quality breed type and steady character has delighted us since the day he arrived in NZ as a baby puppy. Right from the start he proved to be a pre-potent stud dog and has consistently produced sound and typical puppies across the board. Although rarely shown he has excelled under breed specialist judges gaining noteworthy In Show wins – with the ultimate accolade being Best in Show at The Labrador Club Inc 50th Jubilee Championship show in May 2009. Judge: Margaret Brown (Ramsayville Labradors UK). Margaret Brown's critique states:
"Such a beautiful dog to go over, for me has quality is abundance however does not quite show himself off to advantage and is possibly one who could well be overlooked for this reason, such a lovely head & expression, very balanced, with a kind intelligent look to him, he is so well put together, strong and powerful over the neck with excellent long sloping shoulders, has good width and depth of forechest and it was here I felt he had the edge over the second dog, a short dense coat of correct texture, good bone and substance for his frame, he is short coupled but still with a decent length of rib to give him balance, I thought his movement was first class, positive straight and without exaggeration. I was delighted to award him best Dog and I couldn't see past him for BIS"
Two years later in May 2011 Labrador breeder/judge Eva Rautala from Finland awarded Wills Reserve Best In Show, Reserve Dog CC, Best Open Dog and Best Chocolate Dog at the 53rd Labrador Club Inc specialty show. Three of William's son were in the final dog line up. His critique reads:
"Excellent type, strongly made tall male. Good Masculine head. Good eye colour and pigmentation. Excellent neck and shoulders. Strong body and excellent topline. Well set tail. Nice fore chest . Strong bone, well angulated and moves well. Excellent coat quality and tail. Lovely character, shows well".
William's progeny have carried on with his winning ways and to date William has produced seven Champions and/or Best in Speciality Show winners in Australasia, including a New Zealand Grand Champion..
He also produces puppies with a strong work ethic and he himself is used in the field. He is a dog who has gone from strength to strength as he has matured and as we move into the second generation we look forward to even more success in the years to come.
Judge Richard Edwards
Veteran Dog
1st Trisha Hallmond's Berolee William Trigg (UK) Choc. Big strong old boy with a lovely head and excellent eye, bone and feet good strong neck set on decent neck and shoulder. In good coat and tail, he moved ok. Won Best Stud Dog with a lovely group of top offspring.
Stud Dog
1st Trisha Hallmond's Berolee William Trigg (UK) Stood at the top of a really high quality set of progeny. His owner should be proud – his breeder too.
BISS RBISS NZCH Berolee William Trigg (IMP UK) turned 9 on the 1st of Feb 2014 and not a gray hair in sight. It seems a lifetime ago that we picked him up from the airport. So much has happened in the last nine years. We buried a son and welcomed 2 grand-children and he has been there through it all. I would like to put an order in for another one just like him PLEASE. He is looking after his pinecone, he is an obsessive compulsive retriever, a great producer, great hunter but above all a great pet. And at the age of 9 he still very much rules the roost around here, sleeps beside our bed (thinks he should be on it). Long may this continue. Thank you Sue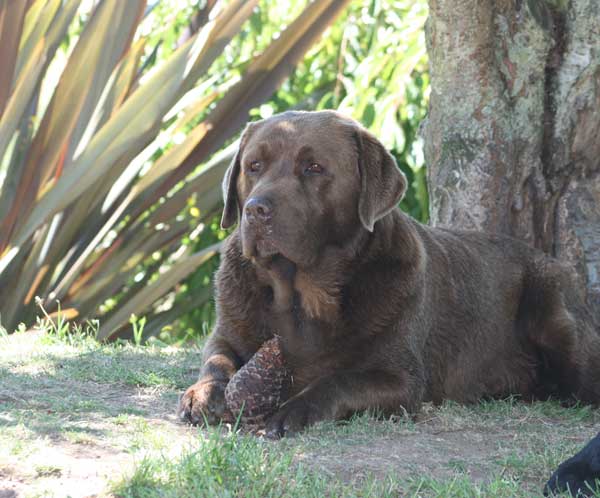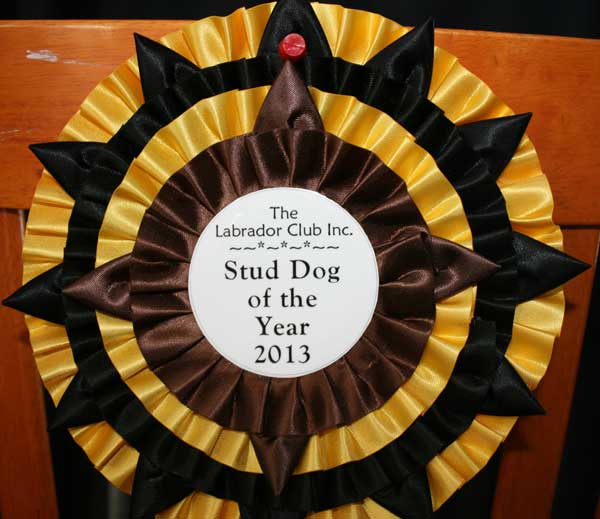 20-Jan-13 Open Dog Open of breed Dog CC Best of Breed
kapi Mana Kennel society [CH] (Judge was Marina Ostrovskaya (Russia))
19-Jan-13 Open Dog Open of breed Dog CC  Best of Breed
Manawatu Kennel Association [CH] (Judge was Lynne Harwood (Aust))
9-Dec-12 Open Dog, open of breed  Reserve Dog CC
East Coast Ladies Kennel Association [CH] (Judge was Linda Buckley (ACT))
8-Dec-12   Open dog  Dog CC
East Coast Gundogs Show Society [CH] (Judge was Liat O'Malley (South Aust))
8-Dec-12   Open Dog, Open of Breed, Dog CC
East Coast Ladies Kennel Association [CH] (Judge was Ken Chuah (Malaysia))
2-Dec-12   Dog CC
South Taranaki Kennel Centre [CH] (Judge was J Thompson)
2-Dec-12   Dog CC
Taranaki Gundog club [CH] (Judge was Kay Sneath (Victoria))
1-Dec-12   Open of Breed DCC Reserve of Breed
South Taranaki Kennel Centre [CH] (Judge was R Hartmire)

23rd May 2009   Open Dog   Dog CC Open Of Breed Best In Show
Labrador Club. (CH)    Judge Margaret Brown, Ramsayville Labradors  Scotland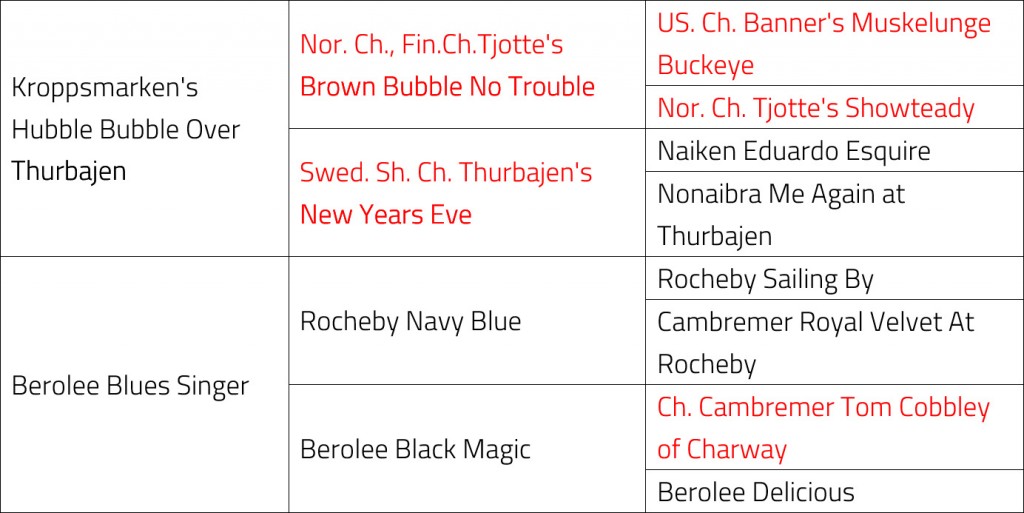 View William's full pedigree here.